"We are joining hands to work globally and act locally" Interview with Joyce Chan from YMCA Hong Kong" Interview with Joyce Chan from YMCA Hong Kong
30/11/2020
Interview by Hilal Erkoca, ISCA
As the coordinating secretary and responsible for the Recreation and Sports Services in the Chinese Young Men's Christian Association of Hong Kong (YMCA), Joyce Chan is working in the Active Ageing Group as a part of the MOVE Transfer Europe-China project.
She gave us an insight on the current coronavirus situation and daily life in Hong Kong, and the Walking Football Project her organisation put into practice to encourage people over 50 years old and with chronic illnesses to be physically active.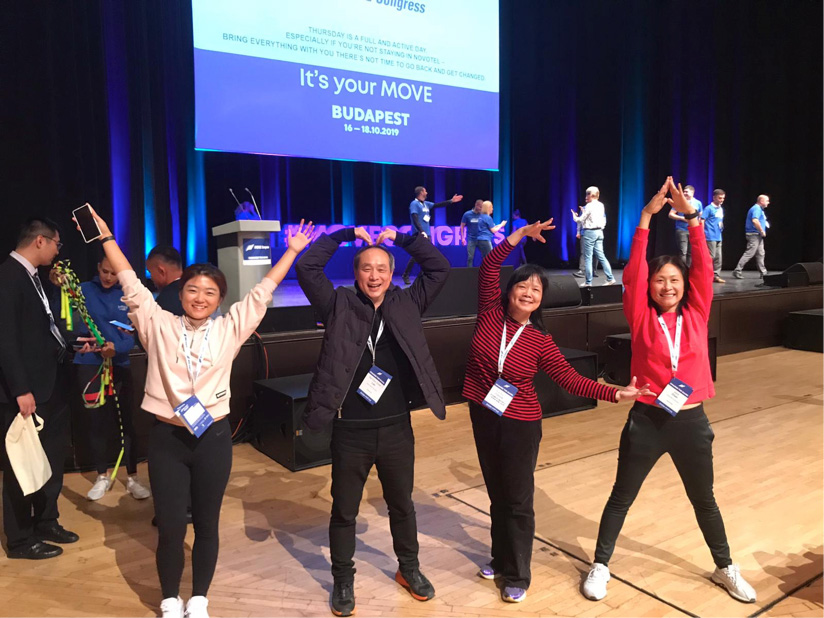 Photo: Joyce Chan and her colleagues at the MOVE Congress 2019, Budapest
Could you kindly introduce yourself and your position at YMCA?
I graduated from Hong Kong Baptist University and obtained a Bachelor's Degree in Physical Education and Recreation Management and a Master's Degree in Sport and Leisure Management. I am responsible for the Recreation and Sports Services in the Chinese Young Men's Christian Association of Hong Kong (YMCA) and am currently the Coordinating Secretary. I am also in charge of Kowloon Centre and Bridges Street Centre, which provide various kinds of recreation, sport and allied health services and activities for members.
I represent my Association as a member of the Employees Retraining Board Recreation and Sports Industry Consultative Networks Committee, Yau Tsim Mong HAD District Office Yau Tsim Mong Healthy City Executive Committee and Youth Program Committee.
How did you decide to participate in the MOVE Transfer Europe-China Project? Could you tell us your story?
Thanks to ISCA and Professor Cheung Siu Yin, I met Finn Berggren, Mogens Kirkeby and Saska Benedicic Tomat during their Asian study tour in 2019. They visited Kowloon Centre and we shared how YMCA provides a diversity of recreational and sport services from children to senior members. As YMCA is an international organisation, I was wondering what if I could learn more about from ISCA and exchange ideas with other Europe Countries and Chinese colleagues. We could join hands to organise some projects so as to work globally and act locally. So I decided to participate in the MOVE Transfer Europe-China Project.
How is daily life and the current situation in Hong Kong?
Our daily life resumed with a 'new normal' in September 2020. In order to reduce the risk of the spread of novel coronavirus in the community, urged by the government, we implemented some precautionary measures for members and visitors upon entering to our centres, including wearing a mask, washing hands with alcohol-based hand rub, measuring body temperature, etc. Meanwhile, we have had to cut down the capacities of each sports program and training class to 50% and 4 participants in a group with 1.5-metre social distance.
Our members and visitors are very concerned about our sanitation conditions and measures because they really want to return to normal daily life and do exercises regularly. Actually, we had closed our facilities and suspended our services, programs and training classes after the Chinese New Year Holiday in January 2020. That was our first lockdown. Our centres modified their operation hours, began to divide into serval working teams, adjusted their duty rosters and started working-from-home mode. The situation of novel coronavirus in community was getting better in May and we managed to reopen parts of our recreational facilities, launch our summer programs promotion and recruitment. However, the situation became worse in mid-July, and we had to shut down the facilities and suspend all the summer programs and training classes again. Last but not least, we have had to handle a lot of refunds like other sport associations, clubs and NGOs in Hong Kong. Nowadays flexibility is important for our program planning and operations.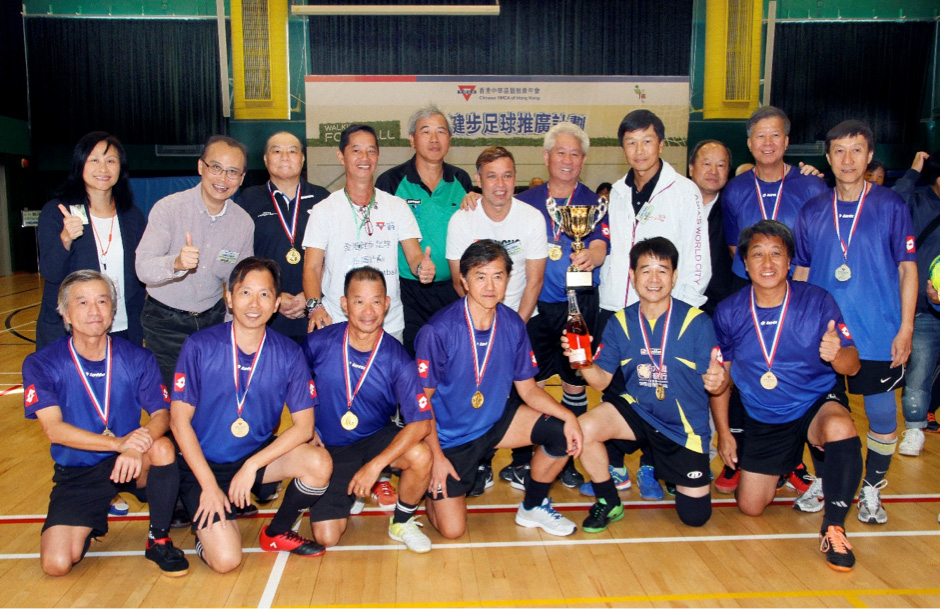 Could you inform us about the Walking Football Project? How did you come up with this project?
Statistics show that a lot of people approaching retirement age become increasingly concerned about their health. Taking part in an appropriate and enjoyable physical activity can help seniors stay healthy in the second half of their lives. To encourage people aged 50 and above and those with chronic illnesses to do more exercise, YMCA introduced the sport of walking football from the UK to Hong Kong in 2015. Walking football is a physical activity which allows participants to enjoy the fun of football but without the risk of strain or injury that comes from running and contact with other players. As I am also responsible for a 'Project Joy', a program launched by YMCA for members over the age of 40. We have organised walking football coaching training courses, referees training course and regular training classes at different YMCA centres.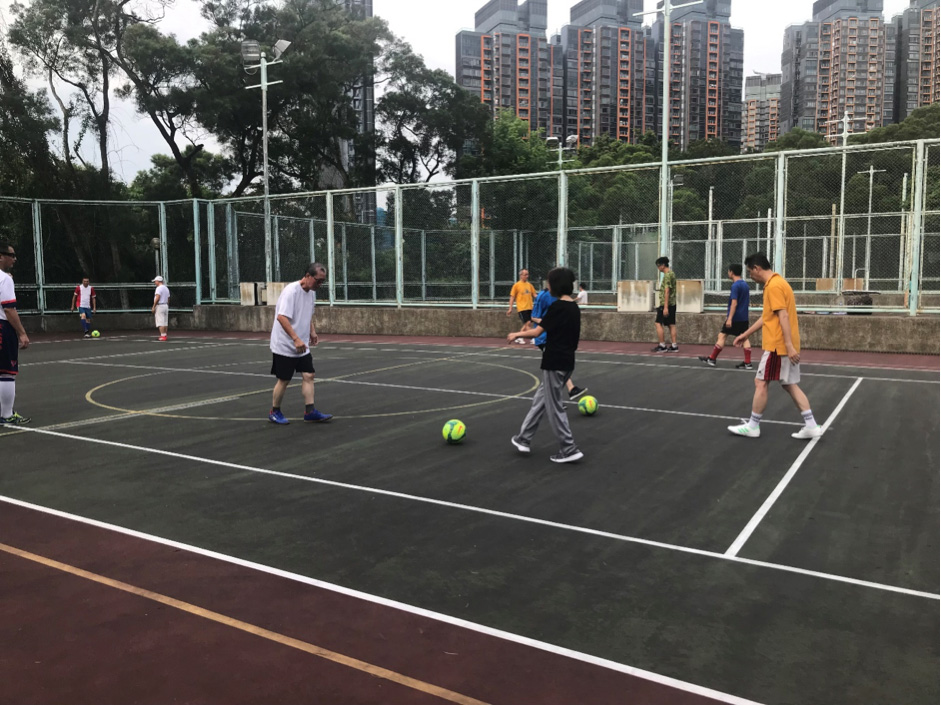 You conducted a research on The Effects of Walking Football on Physical and Mental Health of Adults Aged 50-70. How do you see the results?
To understand the positive impact of walking football, YMCA invited Professor Stanley Sai Chuen Hui from the Department of Sports Science and Physical Education of the Chinese University of Hong Kong, to conduct a study on the "Overall Impact of Walking Football on People Aged 50-70" by observing over 50 walking football players for more than two months. The study showed that the cardiopulmonary function of the participants improved significantly, and their resting heart rate dropped from 75.7 to 71.5. The walking distance of participants in a 6-minute walking test increased by 19 metres after two months of walking football activity. The study indicated that walking football can help improve the cardiopulmonary endurance of participants, as well as their blood oxygenation capacity.
It was noted that the turning and kicking movements of walking football use one foot only, so practicing walking football can improve balance and lower limb muscle strength. Also, rapid walking during walking football is an aerobic exercise, which can effectively improve cardiopulmonary health and physical flexibility. In other words, walking football can help reduce the likelihood of impaired mobility and falls by the elderly.
In addition to physical benefits, walking football can also help older people regain the fun of playing football, explore a new interest and expand their social networks. Golden agers are inevitably concerned about the second half of their life. Before undergoing walking football training, 9.4% of the participants indicated that they were unhappy, but 66.6% of those unhappy participants became much cheerier after just two months of training. This clearly proves that walking football has a profoundly positive impact on golden agers' mental wellbeing.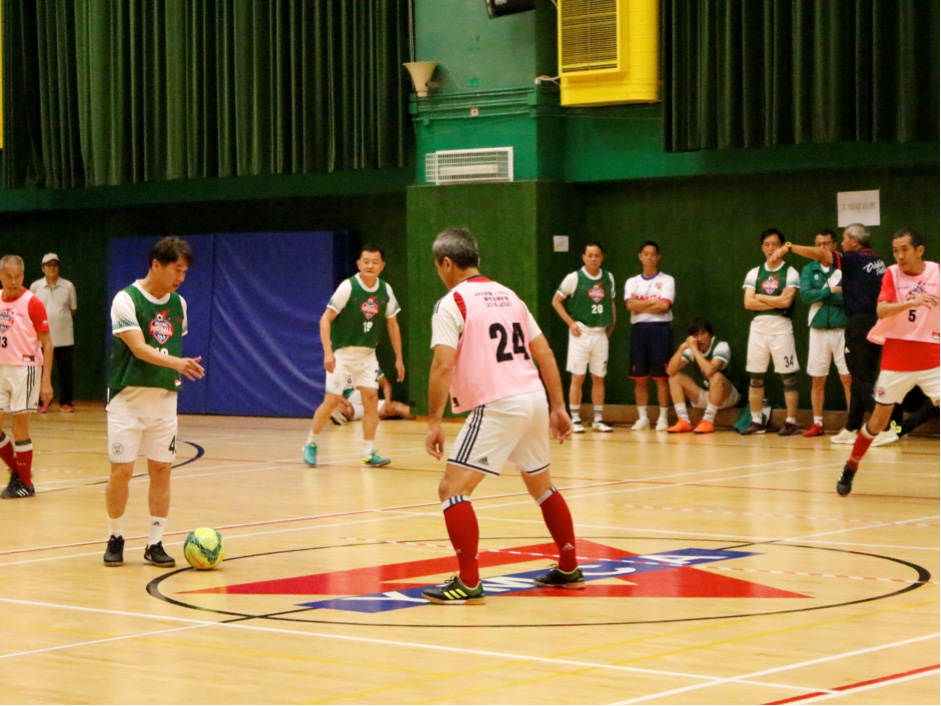 The Walking Football Project attracted a lot of attention – even celebrities such as former Manchester United player Dwight Yorke attended your kick-off meeting. How did you manage to promote it in a very successful way? Did you receive any support?
To help raise health consciousness in the community, YMCA and the AXA Foundation joined forces to promote Walking Football in 2018. The 2 year-program hosted more than 195 games and benefited over 3,000 people. Walking Football is a new game for an ageing population, so we really wanted to introduce the sport to the community and draw more publicity. YMCA organised the 'AXA Hong Kong-YMCA Walking Football 2018- 2020 Kick-off Ceremony' on 8 April 2018. A number of football stars and celebrities attended the ceremony, including Dwight Yorke, a former striker for Manchester United; local famous singer Hubert Wu; former Hong Kong footballer Poon Man Tik; Hong Kong Movie Star Sports Association Football Team player, Dr Law Ka Ying, MH; and Mr Chung Chi Kwong, a well-known football commentator. The guests demonstrated their walking football skills, led ball exercises and shared their thoughts on this emerging sport with the public in a fun and engaging ceremony. YMCA has a working team from different service units, including social workers, program staff, Knowledge Management staff and media experts. We meet regularly to discuss the development of the YMCA Walking Football Project.
The YMCA introduced walking football to Hong Kong in 2015. How is the situation now, is it a popular sport in Hong Kong?
During the COVID-19 lockdowns, YMCA suspended all walking football classes because we have many 60+ and 70+ members. Therefore, we asked our participants and coaches to share some walking football home exercises videos. Now we are planning to resume the walking football training in November. It will be a smaller group class, from 24 participants to 12 participants in each class so as to fit the latest government measures.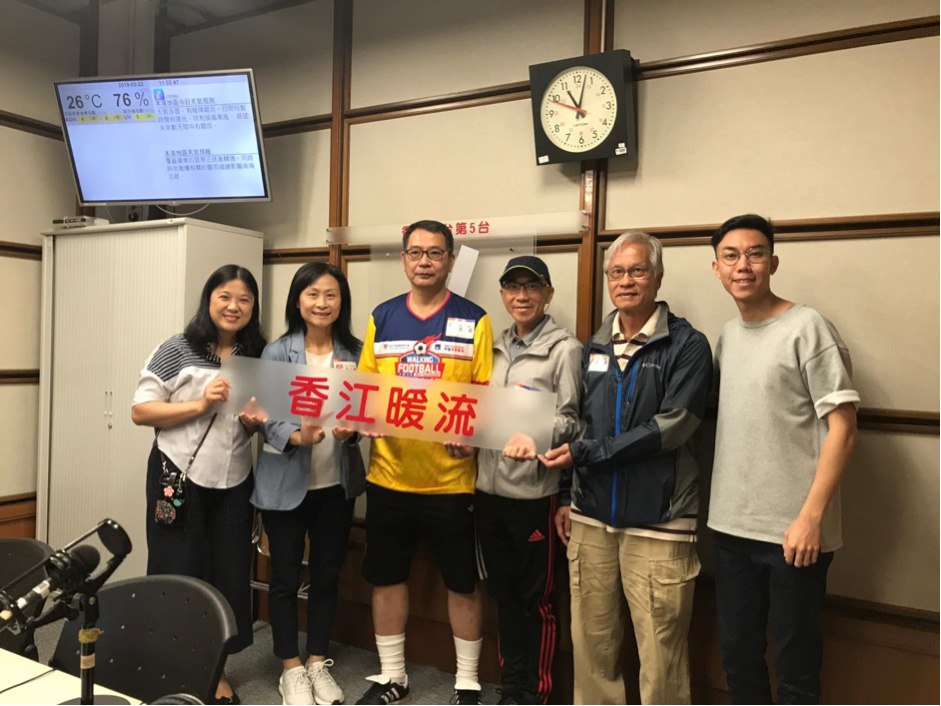 How do you define the MT Europe-China project's contribution to you and your institution?
I learned a lot when I participated in the MOVE Congress and met many new friends last year. Many up-to-date topics and presentations were shared. Through the MT Europe-China project, I was introduced to using online meetings, attending webinars, and sharing and learning through the ISCA online learning platform. Those are my 'new normals', to share and learn more about sport programs and recreational activities through this project. I learned about the European Fitness Badge on the online platform, which is a great way to collect the fitness information. The data can be shared and analysed, and we can use the information to customise fitness programs to our target groups. Or we can introduce some modified sport exercises to make people MOVE.
What are your ongoing and future projects at the YMCA?
We keep working on our health-related fitness programs for active ageing members. Next year, we will continue to promote weight management programs to our children and youth members.