MOVE Transfer position statement on Active Schools beyond 2020
20/04/2021
By MOVE Transfer Europe-China Active Schools Group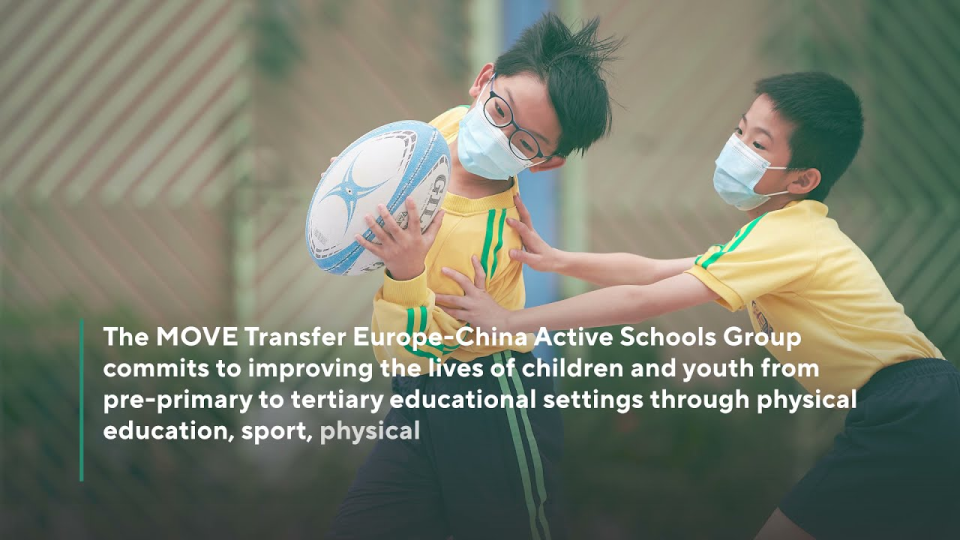 We believe that physical activity is an investment in human capital. The MOVE Transfer Europe-China Active Schools Group commits to improving the lives of children and youth from pre-primary to tertiary educational settings through physical education, sport, physical activity, quality nutrition and cross-sector cooperation in local communities. We want to ensure the right conditions for physical, emotional, cognitive and social wellbeing. We encourage local partnership between schools, local sport clubs and local authorities to make schools and educational settings a place where healthy lifestyles are learned through experience.

WHY do we need Active Schools?
Every child should have the right to go to an Active School where they feel empowered, accepted and safe. Both physical education and physical activity in general can improve children and youth's satisfaction, well-being and performance at school, and at the same time can diminish social stress and help them build friendships.
While Covid-19 has created a direct challenge for physical education, sport and physical activity, it has also created unprecedented opportunities to reconsider ways of delivering physical activity and attribute the importance to it that it truly needs.

These opportunities lie with every sector of society!
Also with you, with all of us!

Let's activate our schools and our communities!
An Active School is a place that provides a framework for inspiring and engaging physical education.
An Active School is a place that values engagement in sport and play.
An Active School creates new opportunities for how to design activities and pedagogical strategies.
An Active School promotes the need for a multi-sectoral approach and creates awareness of lifelong health enhancing physical activity.
Active Schools help teachers make their schools a healthier place by integrating physical activity into the whole day and teaching children about the importance of embracing a healthy, active lifestyle, including quality nutrition.
Active Schools inspire local communities and authorities to provide routes to walk and ride bikes to school, access to parks, playgrounds and community centres, and other infrastructure to help children get the 60 minutes of active play they need each day.
Active Schools motivate parents to set a great example to their whole family by creating a healthy environment at home and supporting community development.
This position statement was launched at the hybrid World Leisure Congress in Pinggu, China, and online in April.
Read more about the MOVE Transfer Europe-China project's Active Schools group.
Watch the full position statement video below: