MOVE Transfer Europe-China Conference: "Sport is an important means of communication and cultural exchange between countries"
26/04/2021
Hilal Erkoca, ISCA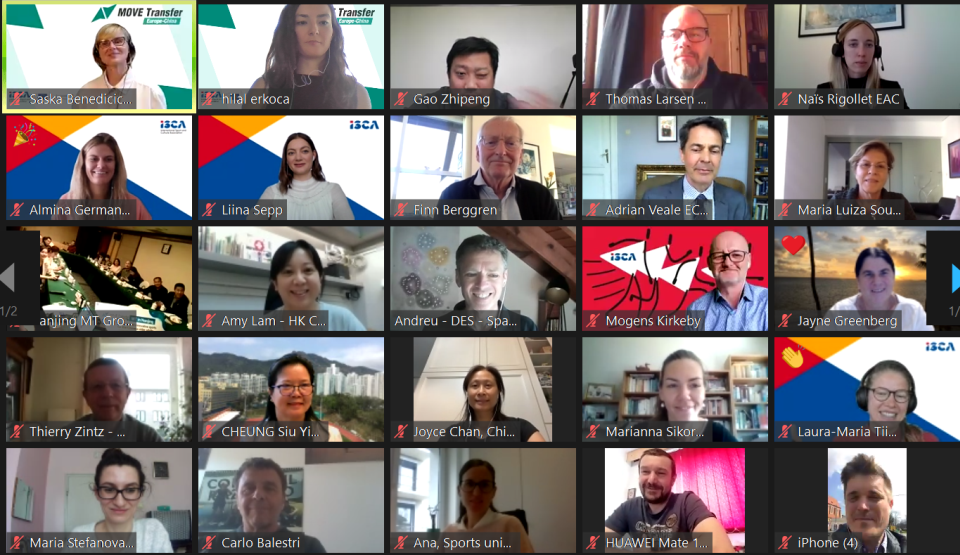 The MOVE Transfer Europe China final meetings and conference took place on 19-21 April 2021 in three different formats (online, offline and hybrid) and in four different "bubbles" (Europe, Hong Kong/Macau, Nanjing and Beijing). While the partners from Europe, Latin America, Hong Kong, and other regions joined the meetings online, the partners in Nanjing and Beijing had the opportunity to meet face-to-face and even organise study tours in China.
During two days of online meetings, 15 speakers shared their knowledge with more than 80 participants from 40 organisations and 20 different countries. Five workshops were held and great discussions including approximately 80 participants in 6 breakout rooms were hosted.
Throughout the 2 years of the project period, we observed not only new collaborations forming between grassroots sports organisations, but also the establishment of new friendships and the consolidation of intercultural dialogue between Europe, China, Macau, and Hong Kong.
Magic Formula for Active Communities Workshop
In the Magic Formula workshop, we tried to reach solutions that will benefit every organisation involved, focusing on outdoor activities, active ageing and active schools, through breakout room discussions. Approximately 80 participants sought a magic formula for schools, active aging and outdoor activities in 6 different discussion rooms.
(After Covid-19) Re-START Workshop
Right after searching for a magic formula for active communities, we listened to examples from Poland, Hong Kong, Germany and Beijing at the (After Covid-19) Re-START workshop. Recommendations for returning to physical activities at schools were shared by Jakub Kalinowski from V4Sport Poland and Amy Chan Lim Chee from the Hong Kong Elite Athletes Association. The challenge of returning to activities at sport clubs was discussed through examples from Germany and China by Michaela Werkmann from DTB Germany and Gao Zhipeng in China.
Grassroots Sport Diplomacy and Intercultural Dialogue
We had two speakers in the session on Grassroots Sport Diplomacy and Intercultural dialogue. Em. Prof. Thierry Zintz, Honorary Dean of the Faculty of Sports Sciences of the Université catholique de Louvain in Belgium explained how grassroots sport exchanges inspire diversity and respect for others. He highlighted how they can reduce barriers and obstacles at the most concrete level (among human beings instead of states or NGOs) and increases the sense of responsibility of all those involved in the process. Although Covid-19 limits our exchanges, it makes us conscious about the necessity of these GRASSROOTS gatherings sharing a common language: SPORT.
His final remark drew on an inspirational talk by Nelson Mandela: "Sport diplomacy has the power to change some of the world. By providing theory and strategic direction, it has the power to inspire. It has the power to unite people in a way that little else does. It speaks to youth all people, nations, and sports organisations in a language they understand. Sport can create hope where once there was only despair."
Our second speaker, Prof. Yiyi Jiang, Doctoral supervisor at School of Sport Leisure and Tourism, Beijing Sport University, China stated that "Sport is the best combination of human wisdom and strengths for thousands of years with increasing tension of international communication. It is an important means of communication and cultural exchange between countries."
Grassroots sport organisations play an important role in promoting international sports exchange. She added that the Winter Olympics could also serves as an opportunity to promote grassroots sports cooperation between China and Europe regarding optimising the sports business environment, the policy environment and other sides.
Both speakers touched upon the use of online platforms during the epidemic. Prof. Yiyi Jiang underlined the vigorous development of online platforms has given rise to the development of online sports organisations. Em. Prof. Thierry Zintz also said that he had never attended so many sports-related online meetings in his life.
Future of the MOVE Transfer Europe-China Partnership
At the Future of the MOVE Transfer Europe-China Partnership workshop, we started by watching position statements of each working group. The working groups (active schools, active ageing and outdoor activities) prepared a global statement at the end of a few months' of work in collaboration and presented their videos for the final meeting. You can also watch them here.
On behalf of the Active School Group, Andreu Raya Demidoff proposed the Moving Schools Alliance as the continuation of active schools group.
On behalf of the Active Aging Group, Prof Siu Yin Cheung, Joyce Chan and Yanan Zhao shared proposals including the Walking Football Classes project, the implementation of European Fitness Badge concept, the Gymnastic For All project, and an inter-generational wellness program for older adults.
Fan Luwei presented on behalf of the Outdoor Activities Group, and mentioned that European-style sports projects are now introduced to China, combined with Chinese culture. She underlined the importance of discovering a new path of promoting mutual benefit and "win-win" cooperation between China and Europe.
International dimension of the new Erasmus+ Programme and international cooperation policies
In the final session, we had three guests from the European Commission to present the International dimension of the new Erasmus+ Programme and international cooperation policies. Adrian Veale, Policy Officer responsible for Asia, International Cooperation Unit, DG EAC from European Commission contributed to the session with his presentation, "Erasmus+: A tool for international cooperation". He started by outlining the international dimension of Erasmus+ and the current structure of programme.
Floor Van Houdt, Head of Sport Unit of European Commission and Nais Rigollet, DG EAC- Sport Unit from the European Commission joined the session. Floor Van Houdt explained the focus on EU Sport Policy main priorities and Erasmus+ Sport Actions. Nais Rigolette underlined the growing importance of sport diplomacy at the EU level.
The MOVE Transfer Europe-China hybrid final meeting was an especially important tool to bring together grassroots sports organisations from Europe and China, Hong Kong and Macau. We had the opportunity to re-discover and experience the importance of intercultural dialogue, the collaboration between grassroots sports organisations in Europe and China and even the digital tools that made possible such a multicultural big event.
And we look forward to following the next chapters of the collaborations created through this project.
Pictured below: The MOVE Transfer Europe-China project partners based in Beijing gather in person to join the online conference.