Italian MOVE Transfer initiative sees only ability, not disability
22/02/2016
By Maria Chiara Pavesi, UISP, Italy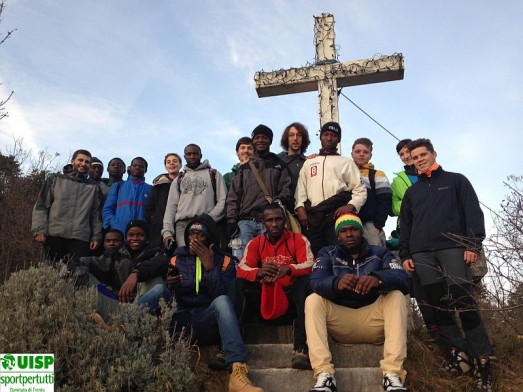 Maria Chiara Pavesi loves spending time in the mountains and helping people. So when the opportunity arose for her coordinate an Italian Sport for All Association (UISP) initiative promoting social inclusion and empowerment among young people with disabilities through mountain activities, "Mountain for all", she embraced the challenge and proceeded to turn common notions of disability upside down. With support from ISCA's MOVE Transfer programme, Maria and UISP Trento are using "Mountain for all" to turn blind participants and people with mental illness into mountain guides, bringing their abilities to the fore and creating a role reversal where the participants become the leaders of the activity. Maria writes how "Mountain for all" has challenged her perception of "disability".
My "Mountain for all" experience
My name is Maria Chiara Pavesi. In my life I have two big passions: people and mountains. I feel very lucky because I can combine both of them in my work and leisure time.
Every time I can, I go to the mountains: hiking, climbing, skiing… everything, which is connected with movement. The feeling of being in the mountain setting fascinates me. Whether I go alone or with some friends, I always test myself against the clock, trying to improve my performance and increase the level of difficulty. But last year I learned a different way to approach the mountain and express myself in that particular setting. The UISP and MOVE Transfer initiative "Mountain for all" (La montagna per tutti) is teaching me to raise my eyes, look around and slow down to welcome and discover the beauty of the people sharing this experience with me.
"Mountain for all" was born as a continuation of a project promoted by the national UISP (Italian Sport for All Association) in 10 different localities in Italy. The project had the purpose to use mountain sports to increase empowerment and promote inclusion of people with disabilities. To put this into practice here in Trento, we decided to organise a course with twenty people, some affected by mental disease, others who are blind and some young volunteers. We proposed a way to discover our own abilities, believing that everybody – no matter their personal background – could find a way to express themselves in the mountains.
When I learned more about how mountain sports can be used as a vehicle for integration, socialisation and wellbeing, I discovered a lot of similar experiences in my land. There were already some social cooperatives that offered the mountain as a setting for their activities. Believing in the power of networking, we started to get in touch with them and visit them. After some coffees and meetings, we developed a networking table called "Mountain for all". It is coordinated by UISP Trento and includes almost fifteen institutions gathered together inside this space of debate, support, knowledge and learning. We meet every two months and we decide a topic to analyse. We promote different formats for our meetings such as trekking together or training sessions. One of these training sessions will happen in March and it will last three days. During it the hard-to-reach participants will become trainer; they will report their points of view and then we will have a dialogue with them and some experts. Fundamental and transversal to all of this is that the "Mountain for all" experience should allow the hard-to-reach participants to be the ones who teach us something and guide us into a discovery other experiences.
This is exactly what I expect from every project: the certainty that I will walk next to a lot of people with different backgrounds and, what is more important, I will look at these people and their beauty instead of their disability. And this belief complements the mountain as a setting, which is a place that teaches us how to deal with our struggles, and find solidarity and beauty. A place where sport and thought are combined, because, above all, the mountain challenges our ego and allows everybody to find their own level. And that's what we are giving people: a challenge and an opportunity.
How "Mountain for all" works
Approximately every two weeks, we run an activity outside and two different simultaneous projects. One is focused on ability and the other one on identity. Why did we choose these two topics? By welcoming the participants and addressing their needs we wanted to develop an initiative that gave value to everybody who participated. During the initiative we trained some peer tutors and these hard-to-reach young people became the promoters of the activity. When training them, we asked, who is the best guide? Who could explain how to orientate oneself without a light inside a cave, a blind person or one with normal vision? Who could overcome a destabilising experience? Who was better at communicating their own feelings? And I think that this is our task as educators: to discover potential in everybody and find out how to utilise it.
After each session there is always a sharing moment, where everybody reports their own feelings about their experience and this becomes an opportunity to learn from the others. In the project are working with some professionals who offered to become volunteers. By changing their roles, we witnesses a role reversal and a redefinition of the internal dynamic.
We are very proud about being able not to just offer an "activity for someone" but instead an "activity with someone", overcoming social tags and addressing cultural and economic exclusion. We are trying to challenge social prejudices about disability: What is disability? What is normality? We believe that there is no ability, but that everyone has aptitudes that are adaptable according to the setting and their psycho-physic conditions. Every person could become able to do sport if they are prepared to give it a go and tackle their problems head-on.
In brief what we are doing is promoting the mountain sport included model, where hiking becomes a meeting and climbing an opportunity to discover one's own ability. According to the setting characteristics (a mixed terrain, changeable, dangerous, psychologically difficult,) we are playing with different abilities and, during every activity, we are changing the conditions and turning situations upside down. The blind young man is guiding us, the one with mental ill health is promoting safety, and the refugees are describing their culture. The mountain becomes a vehicle, and a metaphor for the way we reach peaks in our lives. What we are reaching are moments of meetings among the ego, the other and the mountain.
What's next for the initiative?
Our project will be illustrated in May during the Trento International Mountain Film Festival. There will be one more cultural moment: an urban trekking open to all citizens where our participants will become trekking leaders. We will walk around the city and stop in some key places, where we will read some texts and listen to people telling their experiences. The day after we will trek over the M. Maranza, near Trento, and we will share this moment with LiberiCamiNantes from Rome.
I'm very proud about what we are doing, but I have one concern: our activities are judged according to the number of participants. At the same time the degree of integration and the enhanced wellbeing that the participant acquires from the programme are not measured. In order to reach our aims we cannot accept a huge number of people. And so, I wonder if is it possible to find an instrument that takes into account those psycho-social aspects. We have just sketched the course and we have still a lot to do.
We are very happy that ISCA chose us to be part of MOVE Transfer and that they trust us and our project. If I look at my own experience, these steps are helping me to grow and express my passion. Going outside a room, letting the others amaze me, teach me to look and listen, and moderate my reflections. I am just at the beginning of a pathway and I have a lot to learn from the others. Thinking and organising the activity lets me think outside the box, to make some mistakes and be corrected, and sometimes to do something right. But in the end it is just about trying and throwing myself into what I'm doing. I am looking with confidence and trusting the beauty of what I have in front of me, and this is my biggest motivation during this "hike" and it is propelling me forward in the realisation of this project.