MOVE Transfer expansion of Healthy Clubs a launching pad for new quality mark
18/06/2018
By Alexander Appleyard-Keeling, ISCA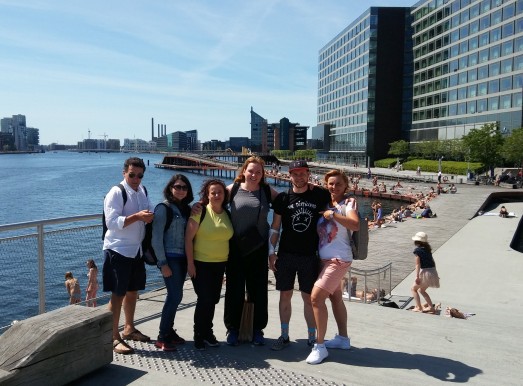 ISCA's MOVE Transfer initiative has seen another local grassroots sport initiative being transferred to other countries, led by ISCA member the Sports Union of Slovenia, which aimed to share its good practice "Healthy Clubs" abroad starting with Bulgaria and Malta. At the completion of this latest MOVE Transfer in initiative, the partners found a process to certify Healthy Clubs with a Quality Mark, and tested the feasibility and effectiveness of transferring the idea to other countries.
At the closing meeting in Copenhagen this month, project partners Sport Malta and BG Be Active presented their experiences of transferring the idea to their local communities. Due to the different structures of the organisations, as well as the different demographics, cultures and needs of their countries, the idea transferred from Slovenia was implemented in slightly different ways by the two organisations. However, there were signs of success in both despite these differences, and seven clubs in each country managed to achieve a Quality Mark, with more on the way towards it.
In Bulgaria, BG Be Active developed a handbook with specific exercises to ease people into the process of getting moving and healthier, this guide has a step-by-step process on each exercise showing how to do them correctly. These handbooks were distributed to clubs to help show them how to involve more people in low-impact exercise, and steer some focus away from "elite" sport, which in Bulgaria is generally more focused on.
In Malta, Sport Malta had a different type of implementation strategy, partially due to them being a national organisation with government affiliation, which gave them more scope to implement direct change. Coaches from clubs were given training to help implement the type of programme required to give clubs the Quality Mark, and the scheme was backed by the government to try and get more people in Malta – once one of the least active countries in Europe – moving.
Continuing to share good practices
The intention for MOVE Transfer when ISCA started the initiative in 2014 was to keep expanding the concept both nationally and internationally, and partners such as the Sports Union of Slovenia, BG Be Active and Sport Malta have been key to making this happen. They now plan to involve four more countries in this practice of transferring good examples and move the concept of the Quality Mark forward. It was also discussed that while there was an understanding that in different countries the Quality Mark would have slightly different types of implementation, the standards for achieving it should be universal, and require clubs to have a good, stable structure, good training methods, and provision for people at the entry-level.
At the closing meeting the partners had the opportunity to visit Idrætsfabrikken, a multi-purpose sports club in Copenhagen that runs mainly on the help of volunteers, and tries to include people from all walks of society in getting healthy doing an activity that they enjoy. Everyone who attended learned new things from a well-established club on how the system in Denmark works. Maybe some of the ideas can even be implemented in the attendees' native countries!
The final day of the meeting closed with another visit, this time to a DGI (Danish Gymnastics and Sports Associations) run project at a health centre in the Northern Suburbs of Copenhagen. In this project they had teamed up with the local municipality and local sports clubs to provide appropriate activities for elderly people and those who had come out of hospital rehabilitation.
Thanks to all the partners and watch this space going forward for more information and progress on MOVE Transfer!