ISCA meets 26 Chinese grassroots sport stakeholders as MOVE Transfer EU-China project begins
21/05/2019
By Rachel Payne, ISCA
Photos: Saska Benedicic Tomat, ISCA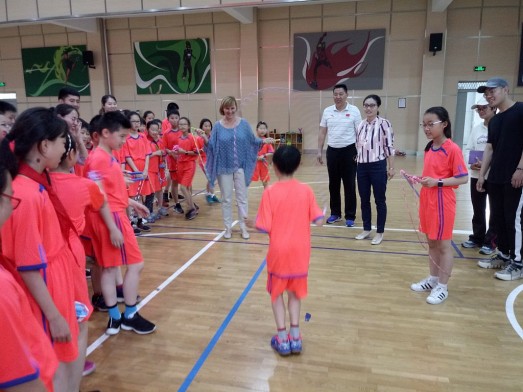 ISCA President Mogens Kirkeby and Head of Projects Saska Benedicic Tomat had a full schedule last week when they visited China to meet the Chinese partners of the new EU-supported MOVE Transfer EU-China project. The seven-day trip opened doors not only to a new grassroots sport culture, but to a wealth of new partnerships in Beijing, Nanjing and Hong Kong.
The first visit was to the Chinese Vice Minister for Sport and World Skate Asia President Mr. Liu Guoyong in Beijing. This was followed by visits to 26 institutions, associations, federations and unions, plus three active schools in Nanjing.
Pictured are some of the highlights from the tour, where ISCA visited the following stakeholders:
Beijing
SERK.c.c
All China Sports Science Research Institute
Beijing Sports University
QingHua University
Beijing Health Science Technology Limited
Beijing Capital University of Physical Education and Sports, China
Training Department of the Chinese Mountaineering Association
Orienteering Branch of Federation of University Sports of China (FUSC)
Study Trips and Camp Education Professional Committee, Department of Physical Education, Peking University
Interactive Sports Technology Invention, Beijing
YMCA Beijing
Nanjing
Jinling Exercise and Health Promotion Alliance (JEHPA) and their stakeholders
Sports science and physical education college, Nanjing Normal University
Department of exercise and health science, Nanjing Sport Institute
Nanjing Health Industry Co
Nanjing Network of Innovative Technology
Digital Fitness Industry
Sport Fitness Association
Asian Outdoor Trade Association
Hong Kong
Hong Kong Gymnastics Association
Hong Kong Skating Union
Hong Kong Karatedo Federation
Hong Kong Bodybuilding and Fitness Association
Hong Kong Mountaineering and Climbing Union
Hong Kong Sports Association for Persons with Intellectual Disability
Hong Kong Faculty of Education, University of Macau
Watch this space for more news about the MOVE Transfer EU-China project and register for the MOVE Congress 2019 for exclusive insights from some of these stakeholders into grassroots sport and physical activity in China.