Sports Union of Slovenia recognised nationally for MOVE Transfer initiative
27/01/2015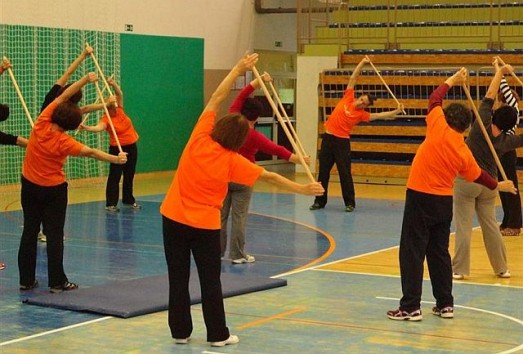 ISCA member, the Sports Union of Slovenia (SUS) has gained support from the Slovenian Ministries of Sport and Education to expand its interdisciplinary exercise programme, ABC, to six new cities in Slovenia through the MOVE Transfer National process.
The ABC programme is designed to introduce inactive and less active people to a light workout which is safe for beginners and progresses at a gradual pace over three steps. It is delivered by local sports clubs that are part of the country's Healthy Society Network. In addition to its expansion, the ABC programme will also be included in Slovenia's National HEPA strategy as a recommended example.
The six Healthy Society Network clubs that will roll out ABC in their cities are Partizan Bakovici, Splošno Športno Društvo Tržič, Športno Društvo Gib, TVD Partizan Jesenice, Športno Društvo 3Šport and Športno Društvo BDD Ando Hirshmann.
The transfer of the ABC initiative was implemented in 3 steps:
Education of new trainers (including older trainers who deliver the programme to the elderly)
Assistance (video assistance, expert assistance, group formation assistance)
Promotion (in community health centres, local communities, within promotional events such as doors open days)
The healthy exercise programme ABC was developed through an interdisciplinary cooperation among experts from the Faculty of Sport at the University of Ljubljana, the Faculty of Physiotherapy at the University of Ljubljana and the Gynaecological Clinic. It is based on body strengthening exercises that follow the principles of functional and gymnastic exercises; i.e. to improve the efficiency of movement in primary movement patterns. This allows for better movement efficiency, not only during physical training but also during daily chores.
The programme serves as basis preparation for the inactive or less active before they take on more intensive physical activity. It is divided into three difficulty levels, A (36 workouts over 18 weeks), B (24 workouts over 12 weeks) and C (12 workouts over 6 weeks). Testing is a part of each of all three parts of the programme and is carried out using the Health Related Fitness (HRF) test battery of UKK.
For more information on the ABC programme, please contact:
PhD Maja Pori
Faculty of Sport Ljubljana, Sports Union of Slovenia
Email: maja.pori@fsp.uni-lj.si
Mojca Grojzdek, Coordinator of the transfer of ABC through MOVE Transfer
E-mail: mojca.grojzdek@sportna-unija.si
MOVE Transfer is supported by Coca-Cola Europe. Visit the official project website