Announcing the 22 EU organisations selected to take part in EU-China mobility project
26/06/2019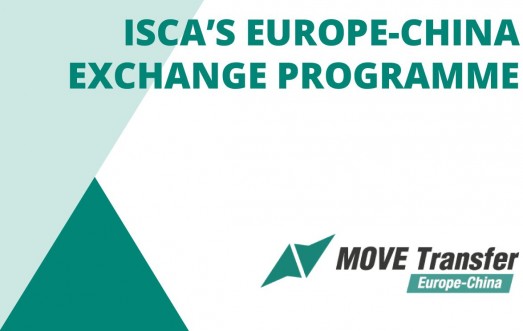 Last month, ISCA issued an open call for European leaders in grassroots sport and physical activity to take part in the 15-month project MOVE Transfer EU-China. We can now announce that 22 organisations have been selected, with 14 joining the full programme and exchanges and 8 additional organisations taking part in the project's online learning mobility course.
"We received 39 eligible applications from 18 different countries and 35 different organisations," ISCA's Head of Projects Saska Benedicic Tomat says.
"A few of the applicants are from ISCA member organisations, and others are NowWeMOVE campaign National Coordinators. But it is also very good to see several new organisations come on board, and they will contribute to the project with the specialist backgrounds and topics they cover."
All together, 50 organisations from China and Europe will take part in both the online and offline exchanges organised during the MOVE Transfer EU-China project, including a special seminar at the MOVE Congress 2019 in Budapest. 58 will participate in the 10-month online learning mobility course on ISCA's online learning platform learn.isca.org.
"ISCA Executive Committee members are invited to join the full project journey as well," Saska adds. "This is a great opportunity to bring ISCA's experts and political decision makers on board to assist in the development of a long-term partnership between Chinese and European organisations. As we also have 8 organisations from Europe that will join only the online experience (due to their very good applications and limited space at the offline mobility), we will end up with around 70 participants in the project. What a group of MOVERS!"
The list of European participants selected from the open call is below - congratulations to all of those selected!
Andreu Raya Demidoff, Deporte para la Educación y la Salud, Spain
Marita Mattila, South-Eastern Finland University of Applied Sciences & Finnish Gymnastic Federation, Finland
Arkadiusz Mierkowski, MSIS Youth Association of Sport Initiatives, Poland
Paolo Menescardi, L'ORMA, Italy
Keith Parsons, Hat-Trick, UK
Mihai Androhovici, Association Sport for All Suceava, Romania
Anne Eggebrecht, Skateducate and Skateboardskolen Aarhus, Denmark
Viv Holt, Youth Sport Trust International, UK
Martin Chlumský, Czech Sokol Organisation, Czech Republic
Emma Jane Clarke, Sport Ireland, Ireland
Marianna Sikorowska, London Marathon Charitable Trust, UK
Dusan Pjevac, Azur Sport Santé, France
Rasmus Schriver, Storms Cycling Club, Denmark
Zakayo Wandoloh, Right2Score, Belgium
Read how ISCA started the EU-China project with a productive 5-day tour of China.