"This is an extraordinary opportunity for us": Meet our MOVE Transfer European partners
30/07/2019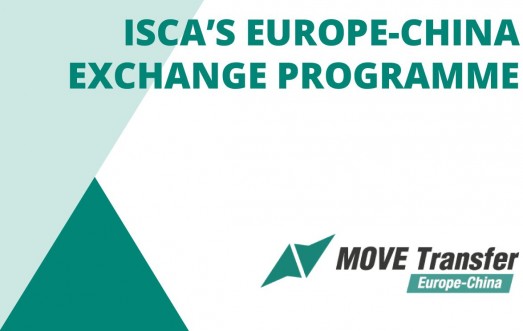 For ISCA's members, project partners and broader network, the opportunity to visit and explore the grassroots sport sector in China is a valuable stepping stone to a vast country, culture and continent. With the EU's Erasmus+ programme becoming more open to cross-continental collaboration and exchange, extending the MOVE Transfer initiative to Asia has been a natural next step for ISCA in our ambition to provide more opportunities for our members to learn from their peers across borders.
Last week, we heard why it is so important for Chinese grassroots sport organisations and universities to branch out from Asia, the US and Australia and learn more about the sporting landscape in Europe.
This week, we find out why our European members and broader network jumped at the chance to apply to be part of our new MOVE Transfer EU-China project, and how they expect the 2-year project to unfold.
Dusan Pjevac, Azur Sport Santé, France
The MOVE Transfer project allows leaders from Europe and China to share their experiences and exchange ideas on this very important subject, which is becoming a fundamental part of public health politics. As a centre of resources and expertise for sport and health for the eastern part of the PACA region in France, Azur Sport Santé plays an important role in the promotion of physical activity for health purposes. We also have the responsibility to look for new solutions in order to reach as many people as possible, and MOVE Transfer is the type of action that enables us to compare our work and adopt new approaches tested in similar environments.
We are expecting to discover the latest trends when it comes to promotion of physical activity, especially actions that have been successfully implemented in different contexts. The MOVE Transfer EU-China project should also help us meet potential partners for our future projects. This kind of project could give us more visibility and facilitate the exchange with different experts from the field.
Rasmus Schriver, Storms Cycling Club, Denmark
The world of sport is an international language. It is a language that is spoken throughout the entire world. It is a language that we all understand. With the ever-growing importance and influence of China within the international world of sports, I am looking forward to becoming part of the future by creating multilateral bonds with actors and sports leaders in both Europe and China throughout the MOVE Transfer EU-China project.
I believe this project will be the most important project within sport for a decade. For the first time, we – the sporting environment in Europe – accept the fact that this is the future of sports. Let us be part of the future.
Paolo Menescardi, L'ORMA, Italy
After having found out about the Erasmus+ programme in 2014, thanks to ISCA's MOVE Congress in Rome, we discovered a lot of international possibilities and the presence of many organisations in Europe that work in the field of sport and training similar to us. For us it was an extraordinary discovery.
We have therefore begun to participate in Erasmus+ projects and initiatives with ever greater enthusiasm, and we have had the opportunity to train many of our operators and introduce numerous innovations and methodologies within our traditional activities. Having the chance to exchange knowledge and expertise on a cross-continental level is something extraordinary for us, it would be the achievement of a dream.
I believe this is an excellent basis on which to set up a real exchange of knowledge, skills and best practices that can enrich the participants, their organisations and their respective countries. Certainly this collaboration can reduce the distance between the two realities and identify what we have in common in the world of sport and education.
Emma Jane Clarke, Sport Ireland
I am delighted to have been selected to participate in this project. Sport Ireland has worked very hard to develop sport in Ireland for grassroots over the last number of years with a particular focus on harder to reach groups including people with a disability, and those who are educationally, socially or economically disadvantaged. I greatly value opportunities to learn from other countries on how they drive their participation agenda and also share our experiences in this space.
As an island nation Ireland can, at times, feel slightly separate from our international partners who work in the grassroots movement in Europe. There are so many positive developments happening in sports and the impact on the health of our society. We believe that this project would present a real opportunity to take learnings, develop networks and strengthen friendships in this sector which would be of great benefit to our work in Ireland.
Mette Madsen, DGI, Denmark
My motivation for joining this international project is that one of its primary activities is exploring physical activity initiatives in outdoor spaces. I am happy to hear what other countries have experienced in delivering physical activity programmes in outdoor spaces and to share our knowledge with them. I'm looking forward to seeing and learning from other cultures and being a part of a learning group.
My hope is that DGI can also develop new initiatives based on the knowledge we get from the project. Especially to hear and see what matters to become active in other countries. What barriers do they have?
The EU-supported MOVE Transfer EU-China project will include 20 partners from Europe:
DGI, Denmark
Sports Union of Slovenia, Slovenia
German Gymnastics Federation, Germany
Ollerup Academy for Physical Education, Denmark
Hungarian School Sport Federation, Hungary
BG Be Active, Bulgaria
Deporte para la Educación y la Salud, Spain
South-Eastern Finland University of Applied Sciences & Finnish Gymnastic Federation (Region of Savo-Karjala) & Mäntyharjun Virkistys, Finland
MSIS Youth Association of Sport Initiatives, Poland
L'ORMA, Italy
Hat-Trick, United Kingdom
Association Sport for All Suceava, Romania
DGI Oestjylland, Skateducate and Skateboardskolen Aarhus, Denmark
Youth Sport Trust International, United Kingdom
Czech Sokol Organisation, Czech Republic
Sport Ireland, Ireland
London Marathon Charitable Trust, United Kingdom
Azur Sport Santé, France
Storms Cycling Club, Denmark
Right2Score, Belgium